IMS GmbH


Consultancy & more
Not just talk but with actions to results.
With our Agile Consultancy™ fit for the future. 
New Builds. Refits. Operations.
Building successful interiors
Since founding IMS in Spring 2014, we have delivered results to owners and crew. Implementing interior management systems on new builds, refits, operational yachts, like S.Y. A, M.Y. DAR, M.Y. Soaring (now Starlust)  and residences, improving work flow and crew performance significantly. IMS continues to be vital in allocating spaces for smooth operations of all departments without causing structural changes, creating SOPs aligning with legal requirements, applying sustainable practices, conveniently in our app or as physical handbooks in order for crew to deliver a true +7* service from day one.
Delivering holistic solutions through our analytic reports and "Scope of Work" for owners' review – who know and expect +7* services
Planning
Offering support through optimising GA, work flows and storage during build to
yards and designers – looking to complete their services
Sustainable tools and procedures for best working practices for crew & staff – achieving continuity and protecting your asset 
Experience
Exchanging knowledge on material maintenance with IOCs, manufacturers and designers – ensuring functionality & correct care
The gold standard on board encompassing the vision of the owners and protecting the design's integrity. In order to ensure quality & continuity – regardless of changing staff or the level of their education and experience – we have developed a format which allows the styling and owners preferences to remain the gold standard on board. With intuitive layouts and icons, crew can follow the guidelines and comments to set up the interior & exterior decks to perfection. Change from day to night set up flawlessly. Regardless if in the Mediterranean or Caribbean, with new crew or new preferences, crew is always ready as expected.
Also available in your bespoke app.
Photo Set-up Book. Set up to Perfection. To your Satisfaction. 
After set up, service procedures, e.g. how to carry out turn ups & turn downs during active guest service, are found in our handbooks. Enabling crew to deliver smooth services to guests on a daily basis is the main focus.  With a clear and visually appealing step-by-step guide including a hygiene concept exceeding commercial standards, there are no more grey areas. Cleaning products are matched to the surfaces for correct application, preventing damages and minimising wear and tear. Allowing your yacht to always look her best since inception.
Standard Operating Procedures. Always on Top.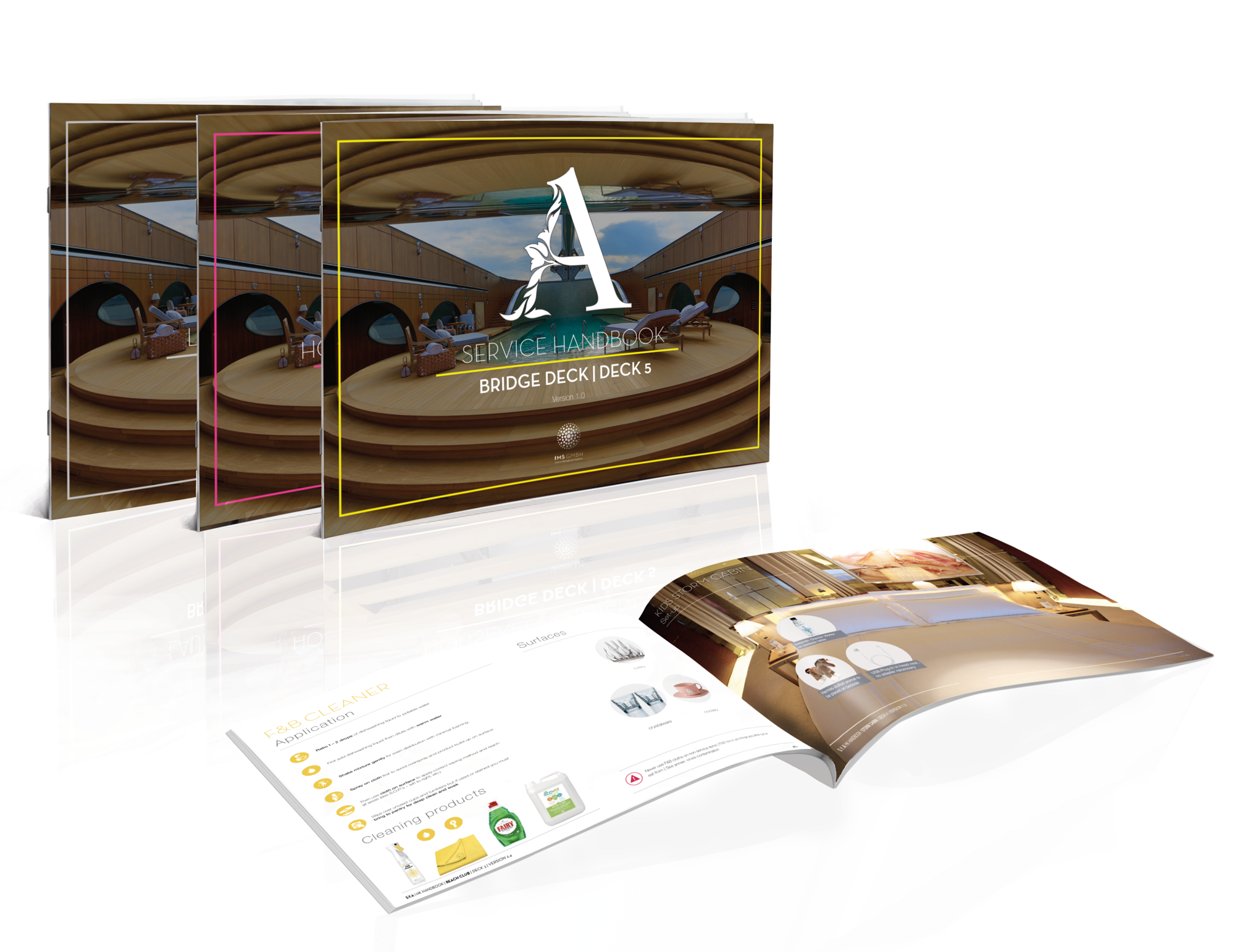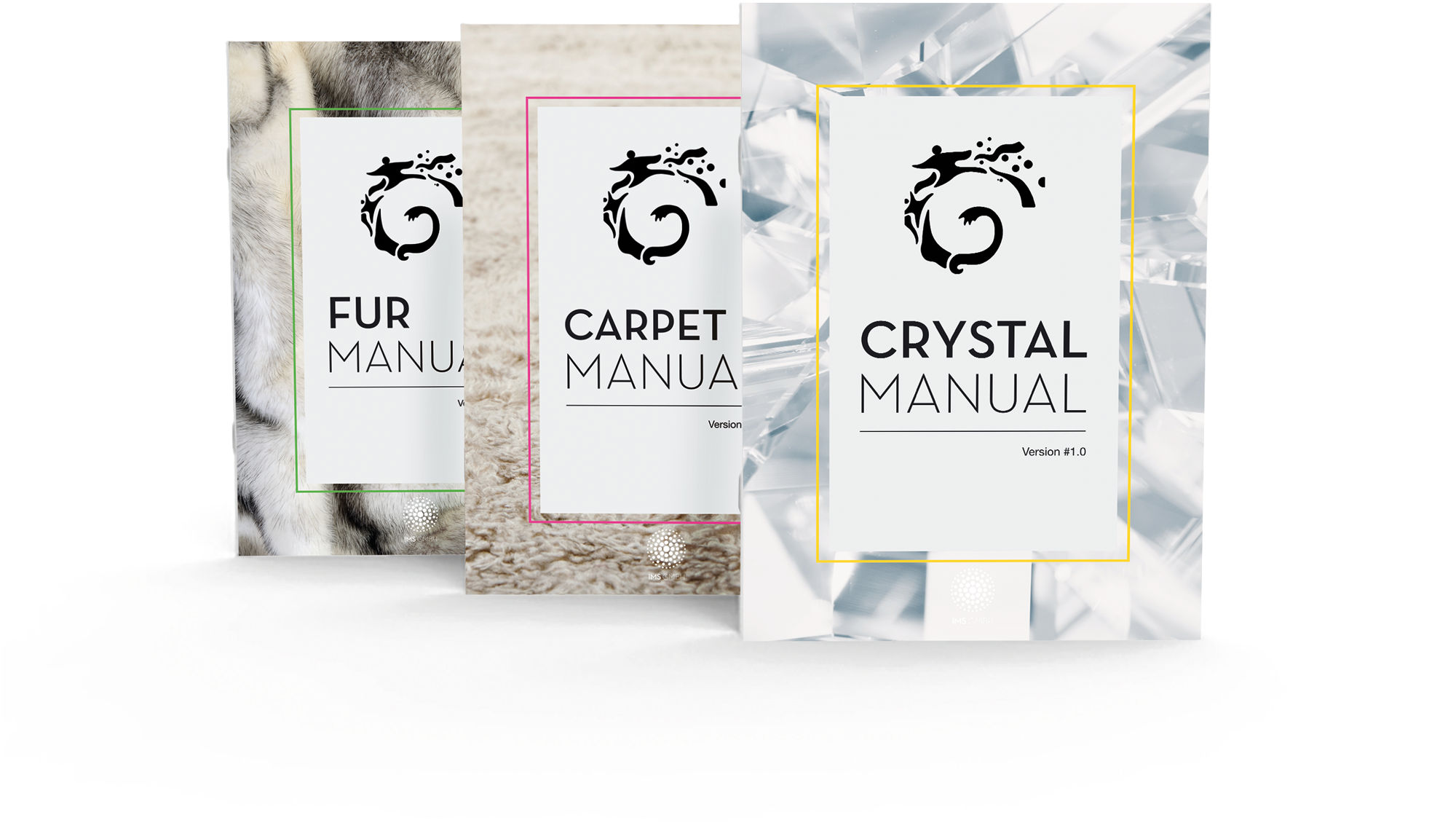 For correct maintenance & care the right methods & tools are imperative. Many times damages occur due to wrong handling and/ or hasty stain treatments. During shorter down times the use of commercial equipment has caused significant damages leading to early replacement of e.g. carpets and causing higher expenses. With the help of neuro-scientific findings our manuals are designed to accelerate learning and lead to successful results. The surface care manuals allow crew to lift stains off any surface without interrupting the guest experience. The manuals also contain all relevant build information e.g. material codes, GA, contacts in one place for more effective scheduling of repairs in balance with the material's life cycle.  
Luxury Surface Care. Damage Control. Correct Maintenance
What motivates us is the pursuit of perfection which profoundly affects the ones who make this industry possible and the industry's image itself. Igniting crew dedication through education through our app and with our Agile Consultancy™ clients gain clarity & control. In doing so, we stand out leaving a lasting impression of what is possible as perfection is the goal.
Spearheading
+7* service
and technology
Unlike any other company, IMS is spearheading +7* service since introducing the term in 2014. Through first hand knowledge in hospitality & technology since 1996, we introduced innovations like our "FineFibres" – a 360° hygiene concept  beyond HACCP – before Covid hightened awareness. Sustainability is an integral part of all our products before eco-consciousness grew in popularity. Also introducing the industry's first & only app for luxury hospitality operations with features like damage logs, laundry tags, SOP ticketing and tracking system, giving management and staff the tools for success. 
Do you have unsolved pain points but no time to sit with them long enough while fulfilling all your other duties?
Are previous systems not covering your needs today? Are you tired of interim- or quick fixes?
Put our solutions at your service and enjoy your assets to the fullest. 
Visit us
Osterdeich 47
28203 Bremen, Germany